Bitzer Ecostar Condensing Unit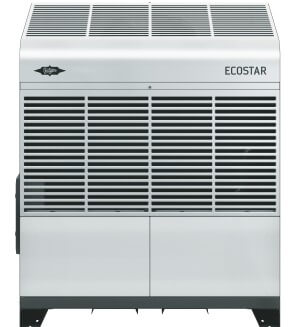 The ECOSTAR condensing units offer intelligent technology for efficient capacity. The specific regulator, the system-optimised condensing heat exchanger, the infinitely adjustable speed controls of the frequency-regulated ECOLINE VARISPEED compressor and the EC fans facilitate future-oriented planning, as all the criteria of the Ecodesign Directive are fulfilled.
Thanks to the cutting-edge control technology, the cooling capacity of the ECOSTAR series can be adjusted in line with the current demands, reducing operating costs by up to 25 percent and facilitating a whole host of potential applications with varying operating conditions. The units boast simple commissioning and comprehensive protection functions.
Model
LHV5E/2DES-3.F1(Y)
LHV5E/4FE-5.F1(Y)
LHV7E/4FE-5.F1(Y)
LHV5E/4EE-6.F1(Y)
LHV7E/4EE-6.F1(Y)
LHV7E/4DE-5.F1(Y)
LHV7E/4DE-7.F3(Y)
LHV7E/4CE-6.F1(Y)
LHV7E/4CE-9.F3(Y)
LHV7E/4VE-7.F3(Y)
LHV7E/4TE-9.F3(Y)
LHV7E/4PE-12.F3(Y)
LHV7E/4NE-14.F3(Y)