Screw Compressor Semi-Hermetic Compact CS Series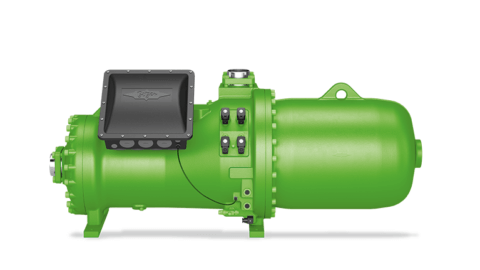 The compact CS series features mechanical capacity control, which enables very good efficiency and simple system integration. The finely graded models of the CS series are optimised for a large application range in liquid chillers and heat pumps. From CS.105 with IQ module.
The CS compact screw compressor series can be used in an impressively wide range of applications from air conditioning to process cooling and even industrial heat pumps.
Versatile product executions enable system builders to perfectly match their requirements. The integrated oil separator and built-in suction gas cooled motor simplify the system integration and enable a compact and cost-effective system design.
The CS series is equipped with a mechanical slider for capacity regulation and can alternatively be operated with an external frequency inverter.
Refrigerants
HFC, HFC blends and HCFC, non-flammable A1
HFO blends, non-flammable A1
HFO blends, flammable A2L
HFO, flammable A2L
For use with HCs (R290/R1270)
Product range
21 models from 137 to 1120 m³/h at 50 Hz
Certifications
Applications
A/C chillers

With and without heat recovery

Reversible A/C chillers for cooling and heating
Process chillers for HT / MT / LT application

With and without heat recovery

Heat pumps

Space heating
Process heating
Industry sectors
Building equipment industry
Automotive and mechanical engineering industry
Food and beverages industry
Injection moulding industry
Chemical and pharmaceutical industry
Marine and offshore industry
And many more
| Model | | | |
| --- | --- | --- | --- |
| CSH6553-35(Y) 137 * | CSW6583-40(Y) 195 * | CSH9573-180(Y) 700 * | CSH8593-140(Y) 535 * |
| CSH6553-50(Y) 137 * | CSW6583-50(Y) 195 * | CSH9573-240(Y) 700 * | CSH8593-180(Y) 535 * |
| CSH6563-40(Y) 170 * | CSW6593-50(Y) 220 * | CSH9583-210(Y) 805 * | CSH9553-180(Y) 535 * |
| CSH6563-60(Y) 170 * | CSW6593-60(Y) 220 * | CSH9583-280(Y) 805 * | CSH9563-160(Y) 615 * |
| CSH6583-50(Y) 195 * | CSW7573-60(Y) 258 * | CSH9593-240(Y) 910 * | CSH9563-210(Y) 615 * |
| CSH6593-60(Y) 220 * | CSW7573-70(Y) 258 * | CSH9593-300(Y) 910 * | CSW9593-210(Y) 910 * |
| CSH7553-50(Y) 197 * | CSW7583-70(Y) 295 * | CSH95103-280(Y) 1015 * | CSW9593-240(Y) 910 * |
| CSH7553-70(Y) 197 * | CSW7583-80(Y) 295 * | CSH95103-320(Y) 1015 * | CSH8583-125(Y) 470 * |
| CSH7563-60(Y) 227 * | CSW7593-80(Y) 336 * | CSH95113-320(Y) 1120 * | CSW8593-140(Y) 535 * |
| CSH7563-80(Y) 227 * | CSW7593-90(Y) 336 * | CSW95103-240(Y) 1015 * | CSW9563-140(Y) 615 * |
| CSH7573-70(Y) 258 * | CSW8573-90(Y) 410 * | CSW95103-280(Y) 1015 * | CSW9563-160(Y) 615 * |
| CSH7573-90(Y) 258 * | CSW8573-110(Y) 410 * | CSW95113-280(Y) 1120 * | CSW9573-160(Y) 700 * |
| CSH7583-80(Y) 295 * | CSW8583-110(Y) 470 * | CSW95113-320(Y) 1120 * | CSW9573-180(Y) 700 * |
| CSH7583-100(Y) 295 * | CSW8583-125(Y) 470 * | CSW10593-360(Y) 2000 * | CSW9583-180(Y) 805 * |
| CSH7593-90(Y) 336 * | CSW8593-125(Y) 535 * | CSH7593-110(Y) 336 * | CSW9583-210(Y) 805 * |
| CSH8553-110(Y) 315 * | CSH8563-125(Y) 359 * | CSH8553-80(Y) 315 * | |
| CSH8563-90(Y) 359 * | CSH8573-110(Y) 410 * | CSH8573-140(Y) 410 * | |