Screw Compressor Semi Hermetic Frequency-Controlled CSV Series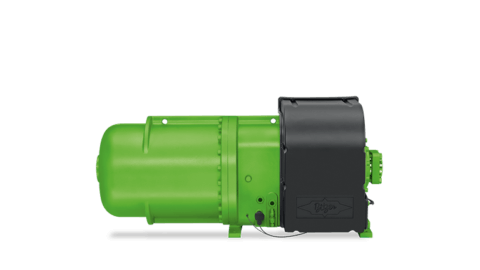 The CSV series is optimised for maximum efficiency in liquid chillers and heat pumps with frequency-controlled capacity adjustment. The internal frequency inverter enables a large spectrum of applications and a broad range of control, which simplifies system integration. The CSV series also accommodates all the IQ functions.
The CSV is the BITZER compact screw compressor series with integrated frequency inverter for best-in-class seasonal efficiency. The built-in frequency inverter makes it possible to achieve a very accurate system temperature and load profile by means of a very wide capacity modulation range. By integrating the frequency inverter and IQ functionality in the compressor, the CSV offers a new level of compactness and user-friendliness. This simplifies the system integration and enables a compact and cost-effective system design.
Refrigerants
R134a, non-flammable, A1
R513A, R450A, non-flammable, A1
R1234ze(E), R1234yf, flammable, A2L
Product range
5 models from 464 to 1206 m³/h
Certifications
Applications
A/C chillers

with and without heat recovery

Reversible A/C chillers for cooling and heating
Process chillers for HT / MT / LT application

with and without heat recovery

Heat pumps

space heating
process heating
Industry sectors
Building equipment industry
Automotive and mechanical engineering industry
Food and beverages industry
Injection moulding industry
Chemical and pharmaceutical industry
Marine and offshore industry
And many more
MODEL
CSVH24-125Y
CSVH25-160Y
CSVH38-290Y
CSVW24-125MY
CSVW37-240Y
CSVW38-290Y
CSVH20-200Y
CSVH37-240Y
CSVW25-160MY
CSVW26-200MY