Sheel & Tube Evaporator DM Series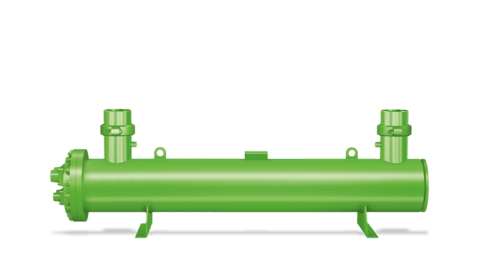 Dry-expansion evaporators designed with 'U-tube' or with a single-pass design, combined with patented refrigerant distribution systems, offer the best performance and the lowest approach between evaporation temperature and water-leaving temperature for positive, medium and low (down to –40°C) applications. A selection of materials and a wide approval choice is available. Flooded evaporators offer the highest efficiency available in the industry.
DM is a single-pass dry-expansion evaporator for commercial refrigeration and medium-temperature process-cooling applications with a wide rage of evaporation temperatures (from positive-temperature evaporation down to –40°C). DM is optimised for R134a and R407F refrigerants at medium pressures (21.5 bar) and is suitable for HFO and HC refrigerants. The capacity range is 100 to 800 kW. A wide range of materials is available, alongside a large selection of pressure vessel approvals.
Features and benefits
Tube material in the standard version: copper
Cooling capacity range up to 800 kW
32 standard models
Design pressure 21.5 bar
Versions with 1, 2, or 3 independent refrigerant circuits
Unique design for medium- and low-temperature applications
Patented refrigerant distribution system
Different baffle spacing versions
Component customisation available
Available pressure vessel approvals
CE (PED 2014/68/EU)
EAC
SELO/CML
ASME
Marine approvals on request
Applicable refrigerants
HFC
HFO, HFC/HFO blends
Hydrocarbons (propane, propylene)