Water Cooled – Oil Coolers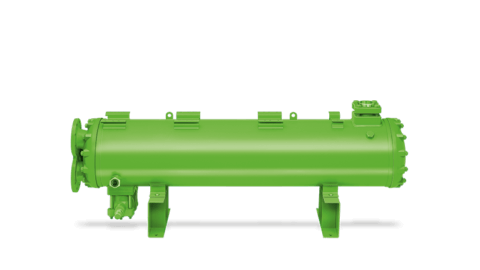 BITZER offers five condenser series that can be used in HFC and HFO systems. Notably low approach performances can be reached with standard capacities of up to 1680 kW. Water cooled and air cooled oil coolers ensure additional cooling, with low pressure drop values and reduced energy consumption.
A complete series of shell and tube oil coolers ensuring optimal additional cooling by means of fresh water or seawater. Suitable for refrigeration systems using HFC/(H)CFC refrigerants and non-flammable HFC/HFO blends.
Technical Features
Four models for fresh water or seawater applications
Fresh water models using copper heat exchange pipes
Seawater models using copper–nickel heat exchange pipes
Optimised geometry and finned tubes to increase performance
Maximum allowable pressure / allowable temperature
Oil side: 28 bar / –10°C to +120°C
Coolant side: 10 bar / –10°C to +95°C
Low-pressure-drop and low-fouling design
Thanks to the low-fouling design of the internal enhanced surface of the pipes, these have a self-cleaning action
Two, three, four and six passes available for configuration on the coolant side allow the perfect velocity in any case
A low pressure-drop value is ensured on the oil side thanks to the optimised pipe and baffle geometry
Available pressure vessel approvals
EU Pressure Equipment directive 2014/68/EU
EAC for Eurasian Economic Union member countries
SELO-CML for People's Republic of China