Reciprocating Semi Hermetic Compressors Two Stage Series Models: 9 Displacement : 25.2 – 123.1 m3/h Motor Power: 5 – 40 HP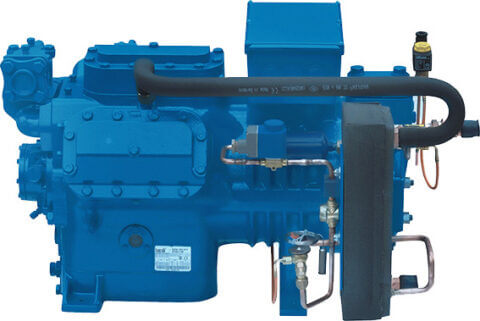 The range of compressors with double compression stage is optimized for low-temperature applications and deep freezing. All the models provide for a system of subcooling of the liquid which allows to increase the cooling capacity and efficiency of the entire plant. The mechanical dimensioning of all the components has been optimized specifically for the particular characteristics of the low-temperature applications, making these extraordinarily reliable compressors.
RSH – Patented Capacity Control
Frascold's patented Reduced SuctionHead technology allows our reciprocating compressors to run unloaded indefinitely. Unlike standard capacity control, RSH capacity lets the compressor run without overheating while energized. This revolutionary feature provides application flexibility while reducing heat, vibration and damage from unloading stress.
Reduced wear and vibration
Run unloaded indefinitely
Efficient & reliable unloading
Frascold exclusive solution
Retrofit existing compressors
MODEL
CYL
HP
MRA
[400V]
DISPL
[50Hz]
S5-26.16 Y
2
5
14
25.2
S7-27.19 Y
2
7
18
26.9
2V10-42.29 Y
2
10
23
41.9
2Z 15-60.30 Y
4
15
31
58.8
2Z 20-72.36 Y
4
20
37
70.8
2Z 25-84.42 Y
4
25
45
83.8
2Z 30-105.51 Y
4
30
53
102.9
2Z 35-112.56 Y
4
35
60
112.1
2Z 40-123.62 Y
4
40
71.9
123.1